What Publishers Tick About Authors & more with Koral Dasgupta
Discover the enchanting world of Indian mythology as author Koral Dasgupta engages in a compelling discussion about her book "Mandodari," published by Pan Macmillan, alongside host K Hari Kumar in this captivating episode of The Story Vault. Delve into the depths of creative fiction, where ancient female characters come alive with a fresh perspective. Join us on a literary journey filled with cultural richness, storytelling brilliance, and the magic of Mandodari's tale. Don't miss this insightful conversation that unravels the layers of myth and narrative intricacies. Tune in now to explore the pages of Mandodari and unlock the secrets hidden within its compelling storyline.
Listen to the Full Episode on:
About Koral Dasgupta
Koral has published an eclectic range of books from academic non fiction to relationship dramas. Her stories explore the inherent nature of complex minds leading to a relatable conflict and unpredictable climax. Having published widely with Westland Books, Niyogi Publishers and Rupa, her books are discussed from the context of gender studies, art, myth and ecocritical literature. Other than India, Koral's books are shelved in the libraries of University of Harvard, Columbia University, University of Pennsylvania, University of Chicago, University of Wales, Duke University, University of North Carolina, TAMU, and others.
Her fourth book has been optioned for screen adaptation. She is currently working with Pan Macmillan on the five-book Sati series – a retelling of the stories of the Pancha Kanya from Indian mythology – Ahalya and Kunti are on the shelves.
www.tellmeyourstory.biz founded by Koral leverages literature to design and execute extensive learning programes which inspire social engagement and behavioural changefor Inclusion & Diversity.
She conducts writing programmes and critical thinking workshops for educational and corporate floors. She is recognised in the list of Innovator25 Asia Pacific 2019 prepared by The Holmes Report, a New York based PR news agency and has been listed under the Women of Wonder (WOW) series in Outlook Business (September 2019). Her website is www.koraldasgupta.com
The Sati Series

THE SATI SERIES of books are works of mythological fiction. These narratives are challenging towards the patriarchal observation of the myth, narrowing down the vast scope of feminine leadership and historical interpretation across centuries, inversely impacting the understanding of women from India and broadly, South Asia.
Various creative translations (including oral traditions) of religious storytelling have influenced the gender responses in India. Not only have they compromised the sociopolitical identity of women, but have also endorsed a regressive image of men coined as heroism. A careful reading of the religious literature provides many instances that are inclusive, liberal and modern – they are grossly suppressed for patriarchal convenience.THE SATI SERIES discovers the compassionate but independent voices of Panch Kanya (five virgins) – disrupting, questioning & reconstructing the transformational power of these legends.
AHALYA was shortlisted for AutHER Awards (best fiction and popular choice categories) in 2020-21. KUNTI is shortlisted for the Valley of Words awards, Dehradun Literature Festival, 2022
Source: Author Website
Mandodari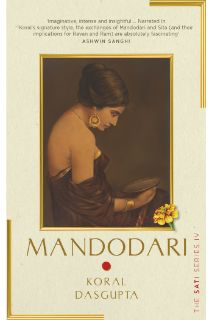 After Ahalya, Kunti and Draupadi, Koral Dasgupta brings us Mandodari, the fourth of the Pancha Kanyas in the Sati series. Narrated in Koral's signature style, the exchanges of Mandodari and Sita (and their implications for Ravan and Ram) are absolutely fascinating. Imaginative, intense and insightful Ashwin Sanghi Mandodari, the queen-consort of King Ravan of Lanka, has long been a forgotten figure in the Ramayan. Her beauty, piety, and righteousness have been extolled, but her pivotal role in the epic battle between Ram and Ravana has been overlooked. Until now. In this fourth book of the bestselling Sati series, Koral Dasgupta offers readers a rare glimpse into the heart and mind of one of the most enigmatic characters in our epics. Through the twists and turns of this gripping tale of power, love, and loyalty, Mandodari is forced to navigate her frustration with Sita's presence in Ashok Vatika, deal with her wily sister-in-law's lies that will lead their kingdom to war, and firm up her position in Lanka, as the daughter of the divine architect Mayasur, by re-building the magical kingdom of Lanka. In this masterful retelling of her story, Mandodari's formidable inner mastermind is unleashed, revealing a leader who is willing to go to any lengths to protect her family and her people.
Source: http://panmacmillan.co.in/bookdetails/9789395624701/Mandodari/3401
You can follow us and leave us feedback on Facebook, Instagram, and Twitter@eplogmedia,
Follow K Hari Kumar on Instagram
For advertising/partnerships send you can send us an email at bonjour@eplog.media.
About K. Hari Kumar
K.Hari Kumar ranks among India's highest selling horror and psychological thriller authors whose books have sold over a lakh copies across formats. He has written two bestsellers (India's Most Haunted, DAKHMA with HarperCollins) and three bestselling thrillers for Srishti Publishers,When Strangers Meet, That Frequent Visitor and The Other Side of Her (adapted as acclaimed webseries BHRAM which starred Kalki Koechlin) and wrote the foreword for FlameTree Publishing's anthology titled Asian Ghost Stories (UK). His 2021 book DAKHMA will be adapted as a web-series by National Award-winning filmmaker Sanjay Nag.
The Times Of India deemed his 2019 book India's Most Haunted as a must-read horror book, and it was listed in HarperCollins India's hundred best books written by Indian authors. The Malayalam translation of India's Most Haunted was published as Indiayile Prethalayangal by Mathrubhumi Books in March 2022.
He was educated in Gurugram. He holds a BTech (IT) and BA (Eng Lit). Hari lives in Pune with his wife. In 2022, K Hari Kumar signed a 4-book deal with an acclaimed international publisher. His next fiction release will be in 2023, and non-fiction in 2024, with HarperCollins India. As a screenwriter, he has written 3 films.
Bibliography – When Strangers Meet, That Frequent Visitor, The Other Side of Her, India's Most Haunted, Dakhma, Indiayile Prethalayangal, Asian Ghost Stories and 6 more to be published between 2023-2025.
Filmography – Enter the Evil (Hotstar), Bhram (Zee5), A Stranger in the jungle can kill you, The Visitor.